I can't believe we are a whole month into 2016 already – and what a fantastic start to the year we have had!
Here are five of our favourite things from January…
New job
I promise I'll stop going on about this soon but I am enjoying it so much! You can read a little bit more about it by clicking here. I'm working as a teaching assistant, running small group and individual interventions to help children who need a little bit more support with their maths, as well as doing some speech and language therapy and some 1:1 work. It's completely different to what I have done before, and I love trying out new things and trying to overcome some new challenges. It's nice to be around adults and have proper conversations as well – everyone seems really lovely!
New printer
I absolutely hated printing stuff out – all the faffing about plugging it in and connecting it to my laptop, and then I could pretty much guarantee that it would jam every single time. Then we were sent this Epson printer to review, and now I just want to print EVERYTHING!! I've never been one to get over excited over technology stuff, but this is awesome.
Prizes
Back in November (I think!) we entered the AO Messy Blogger Competition with our pine cone shaky paintings post. It was to win a new Hotpoint washing machine, tumble dryer and vacuum cleaner. When the competition closed just after new year, we had over 1000 votes (thank you to everyone who voted!). Last week they arrived! It was perfect timing as our washing machine was on the verge of giving up. We gave our old dryer away and now have these top of the range ones.
Blogging Buddies
Since October – ish last year, I've been part of a little group of bloggers on WhatsApp. There's seven of us altogether, and it sounds really cheesy, but we've become really good friends. We all support each other and look out for each other, and it's so much more than just a 'blogging tribe'. When any of us want to have a moan, a rant, share exciting news or just want to chat, we are all there. A few of us have met up at various events, but hopefully this year we will all get together and all meet in person!
Making a Murderer
I've finally understood what it is to have a 'Netflix Binge' – we are in the middle of one! In fact, as I am typing this I am watching Making a Murderer! We started watching it earlier this week but couldn't get into it. We gave it another go and we are now well and truly hooked. I think by tomorrow night we will have finished the series. Both Gray and I are really into our crime series and dramas – NCIS and CSI are some of our favourite shows, so this is right up our street!
So there we are – just a few of our favourite things from January. How was your month?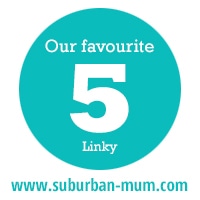 ;